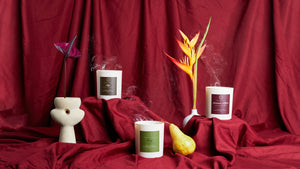 Dabira Aroma is an all natural apothecary brand consisting of candles and Body butters. Dabira is the Yoruba Word for Serenity. The first step of self-care starts with you, and you and your skin deserves nothing but the best. Your taste of luxury is waiting for you.
The Art of Indulgence
We curate luxe inspired candles and body products to be enjoyed by YOU and others you would like to enhance their self-care routine.
Our Candles
All Dabira Candles are Hand-poured in California from 100% organic coconut wax. Each of our scents is specially curated and holds a nostalgic memory to the owner Shola. Dabira Aroma candles use 100% cotton wicks to ensure a toxin-free burn, and each candle is hand-poured with passion and care. Dabira Aroma Candles are poured into reusable glass vessels to create a 9 oz candle that offers up to 60 hours burn time for long lasting joy.
Shop Now
Giveback
Dabira Aroma is more than just a brand. When you support our brand a portion of each proceeds are donated to charities that help make the world a more loving and beautiful place. 
Learn More